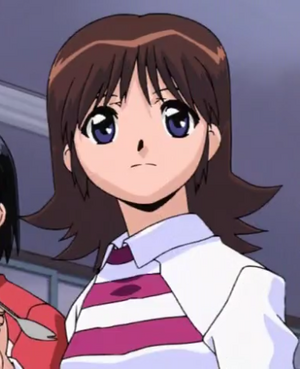 Personal Status
Professional Status
Informal Status
Aya Eto is a recurring Character in Gakkou no Kaidan Anime series. She's a classmate and close friend of Satsuki.She is voiced by Kiyomi Asai in the original version and by Melissa Davis in the English Version.
Her first appearance was in Episode 15.She is one of the girls that participates of Shinobu's dark ritual, and she is the first victim.Shinobu says that Aya called her last night, saying that she wanted to give up of the ritual. The next day, Aya was absent from school, and Sakata didn't call her name in the attendance list. Satsuki asks the teacher about Aya, but he says that he doesn't know anyone called Aya Eto, and everyone in the class laughs, Satsuki noticed that not just Aya but her desk was gone. However, after Shinobu is defeated, Aya and the other girls came back safely. She appears again in Episode 18, talking to Misono about the fact that there is no music being played during the lunch, and Leo says that there is no DJ during the lunchtime. When Leo is talking about the legend of the Broadcast Room Ghost, during the physical education class, Aya appears again, with Satsuki. She was possibly talking with Satsuki, then Leo appears. Aya appears again in Episode 20, as Aya, along with other students, are being controlled by Ohma, and tries to kill Satsuki with the other kids under Ohma's control.After Ohma is defeated, Aya comes back to normal.
Ad blocker interference detected!
Wikia is a free-to-use site that makes money from advertising. We have a modified experience for viewers using ad blockers

Wikia is not accessible if you've made further modifications. Remove the custom ad blocker rule(s) and the page will load as expected.