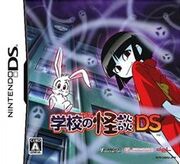 Gakkou no Kaidan DS
is a game of the Gakkou no Kaidan Game Series. It is based on
Gakkou no Kaidan SP
. It was released only in Japan in July 17, 2008 for the Nintendo DS.
The objective of the game is exorcise ghosts in the old school building and solve some puzzles, such as discover a code to open a door, etc.
Ad blocker interference detected!
Wikia is a free-to-use site that makes money from advertising. We have a modified experience for viewers using ad blockers

Wikia is not accessible if you've made further modifications. Remove the custom ad blocker rule(s) and the page will load as expected.