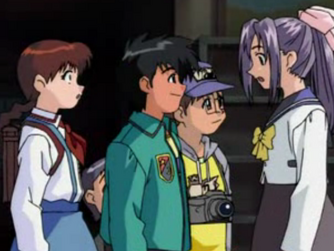 Haoko
(Japanese
HajiMomo
) (also know as
BeretShipping
,since in the first episode Hajime helps Momoko to find her beret in the old school) is a ship of Gakkou no Kaidan that implies Hajime and Momoko are in a relationship.
When Momoko appears,Hajime says "She's beautiful!".
After Momoko says that she lost her beret in the old school,Hajime and Leo offer to help her (although Hajime says that no one can enter the old school),probably because they have a crush on her.
When they are in a corridor,and Hajime and Leo says that they are not afraid,Momoko says "You two are so fearless!".
Hajime takes Momoko's beret,that the statue was wearing.After the statue moves,and everyone runs,scared,Hajime gives the beret to Momoko.The girl says "Thank you!",smiling.
Ad blocker interference detected!
Wikia is a free-to-use site that makes money from advertising. We have a modified experience for viewers using ad blockers

Wikia is not accessible if you've made further modifications. Remove the custom ad blocker rule(s) and the page will load as expected.