Mrs. Aoyama is the mother of Hajime Aoyama,that appears in the episode The Nurse Who Tells Your Death: Mother's Feeling ,talking to Satsuki about how she wanted Hajime to help in household chores.In English Dub Version she was voiced by Barbara Cummings Smith and in the Original Version she was voiced by Kumiko Takizawa.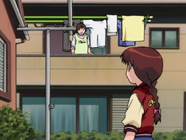 Ad blocker interference detected!
Wikia is a free-to-use site that makes money from advertising. We have a modified experience for viewers using ad blockers

Wikia is not accessible if you've made further modifications. Remove the custom ad blocker rule(s) and the page will load as expected.